Hello everyone,
This is a canvas I have first covered with corrugated cardboard, gessoed and painted it. Then added a piece of an old pair of jeans, and a stamped page of a book.
On both sides, I have sticked pieces of a very special masking tape, that you won't find in any shop. Why ? because I have made it on my own, with 2 Artistic Stamper stamps that fit very well to it :


I first stamped the book page with the small bee from Honeycomb Background & Free Bees, using a lot of Versa and Izink inks, to have a multicolor background. I stamped the queen and hid her to protect when stamping the honeycomb. .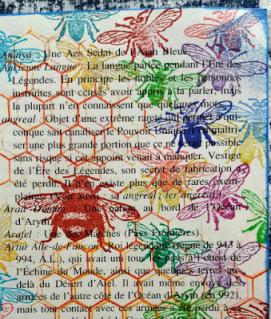 Here is the finished project :
Do not forget that you can win these fabulous stamps, just participating in our challenge
BIRDS AND THE BEES
Thank you so much for stopping by.
Your comments are very much appreciated here, on my blog
Bye for now and happy creating.