It's been great thrill to be Guest Designer for The Artistic Stamper Creative Team for the month of August and as it's very nearly the end of the month this is my last creation.
It's a Triptych and has been made to stand up in a shrine-like way that has been made from heavy card in an arch shape. I have used some of my favourite colours again and a variety of stamps and materials many of which can be obtained from the bountiful choice available in the
Artistic Stamper online shop
. As usual I have listed all ingredients with links.
Ingredients:
Heavy White Card
Glossy Accents
Stickles Glitter Glue (purple)
UTEE (silver)
Waterbrush
Distress Inkpads (barn door, dusty concord & milled lavender)
Distress Re-Inker (dusty concord)
Gold mica powder
Versafine (onyx black)
Versamark
Sheer Gold Glaze
Printed words
White opaque pen
Foam Pads
Masking Tape
Brads (purple)
Stamps:
Flourish Swirls Plate
Girl With Clock
I used a template I had made from heavy board some while ago and cut out two identical pieces from heavy white cardstock. The height is 6 inches and width 4 inches. One of the panels has been cut in half vertically and these two pieces form the side panels.
The panels were adhered at the back on 'hinges' made from masking tape, allowing the panels to move.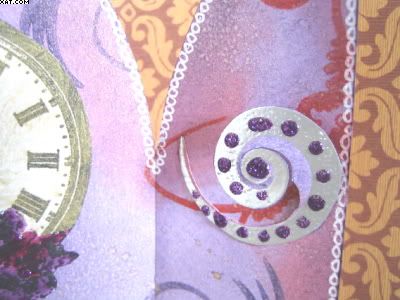 I then got going with Cut'n'dry foam and my inking tool with barn door & dusty concord Distress inks to colour the entire background, shading the edges with more barn door. This was dried with a heat gun.
The flourish stamps were then inked in barn door & dusty concord and overstamped on the background. I then made a mica spray (but you could use the
Crafty Notions mica sprays
), with dusty concord re-inker and gold mica powder in a mini- mister. This was sprayed in a random way until happy with the effect. The gold sheen is subtle but adds to the background. The white pen was then used to draw on little circles all around the edges of the Triptych.
.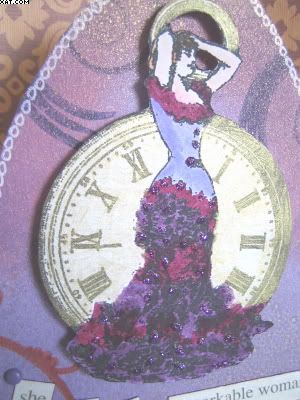 A third flourish stamp was inked with Versamark ink, stamped twice and heat embossed with silver UTEE. These were coloured with dusty concord ink and cut out to give them a 3D spiral effect. Blobs of the purple stickles were added as shown. These were put aside until later.
Next the Girl with Clock stamp was inked in onyx black Versafine ink and stamped on white card. The image was coloured with a waterbrush and the distress inks until happy with the colours. The clock was painted with one coat of a sheer gold glaze. More purple Stickles were added on the dress to highlight. When dry this was trimmed out using scissors and a craft knife and adhered with foam pads as shown.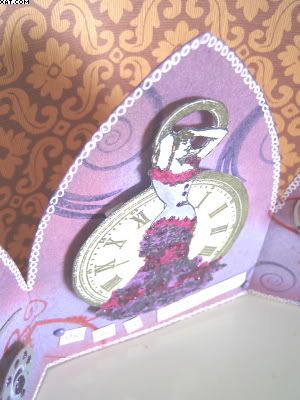 The two 3D flourishes made earlier were adhered with Glossy accents and some printed words were painted with the sheer gold glaze, edged with purple pen and stuck in place with Glossy Accents. Finally, two purple brads were applied as shown.
The Triptych is free standing and could be adapted to fit any subject. Hope you like the piece.
Thanks go to Jennie and Hels and the rest of the team all of whom do some stirling work in the name of craft ! Thanks also to everyone for their comments on my pieces which are always greatly appreciated.
Sid xx