Hello happy crafters !
Today I wanted to test dioramas. I have covered the one I made with a magazine picture of undergrowth to give a background to my Mushrooms A5 Plate © Tit Belsoeur
I have stamped the mushroom on a bristol page so that it is strong enough. And I have colored them with Promarkers for bright colors. Stuck them with adhesive foam pads to create depth.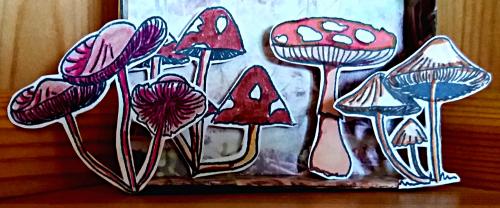 And here they are in the undergrowth mood... I am considering to make others with different moods, I will let you know... stay tuned !
Would you like to win these fabulous stamps ? Easy : just

participate in our monthly challenge "Winged wings" for 3 chances to win !
Thank you so much for stopping by.
Your comments are very much appreciated here, on my blog