Hi
A Big thank you to everyone who joined in last month's challenge. There were some amazing creations.
This month's challenge is Take a little colour and can be interpreted any way you like, as long as it has rubber stamping in it.

To join in with this challenge (we are limiting the challenge entries to 3 per person), is simple; all we would like you to do is, make a piece of artwork, making sure that you include the theme and some rubber stamping. Pop back here to link up using the Inklinkz at the bottom of this post, so that we can see what you've made and then, leave us a comment to let us know you have joined in with the challenge.
As always, there will be candy for one randomly picked entrant - the winner will receive a stamp of their choice from The Artistic Stamper .
In addition, you can enter the same challenge on Facebook!
To join us on just go to our new Facebook group, and send us a request to join.. There will be a prize for the Facebook challenge, as well as the blog challenge!
And don't forget....if you use The Artistic Stamper stamps on your entry, you will entered into the draw, twice! To get you started here are creations from some of the team....
Are you searching ideas to participate in our monthly challenge for 3 chances to win fabulous Artistic Stamper stamps ? Here is a simple card, very easy to make : Just ink your mat with Distress ink, spray it and press your paper on it. Then ink some mini background stamps here and there with the same inks, and stamp a beautiful door with black archival ink.
And here is your beautiful card with little colour !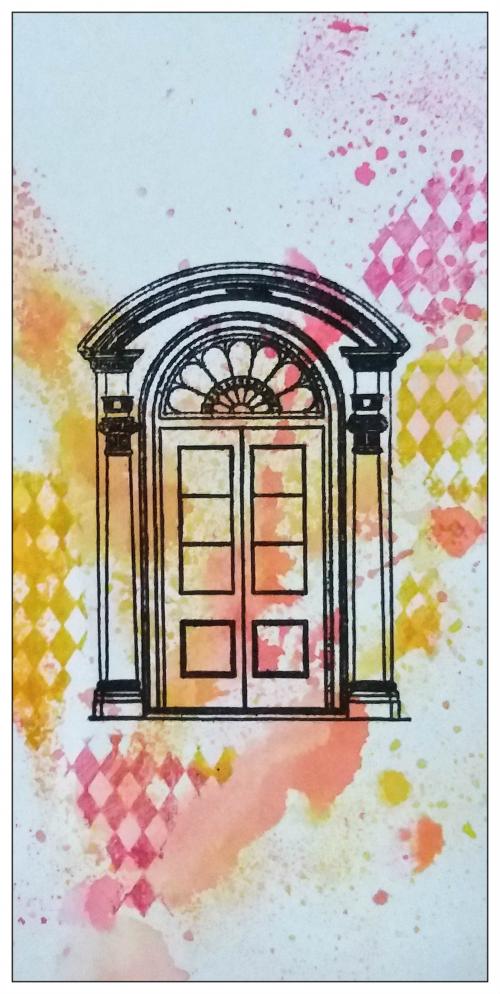 We hope that you will join in this month's challenge, and also join us on Facebook too.
We look forward to seeing your creations. Don't forget to add a comment when you have posted your entry.
Have a very creative month