Hello happy crafters !
I have made this mail art with a kraft envelope I have recently received, I wanted to keep the stamps that did perfectly fit with the stamps I had the pleasure to design for The Artistic Stamper.
To meet the October challenge, I have sticked music pages on it, then stamped with these stamps you may find here : Tit Belsoeur Stamps. Gessoed and distressed, then highlighted the stamps with a white pen, and now I just have to write the name and address of the recipient :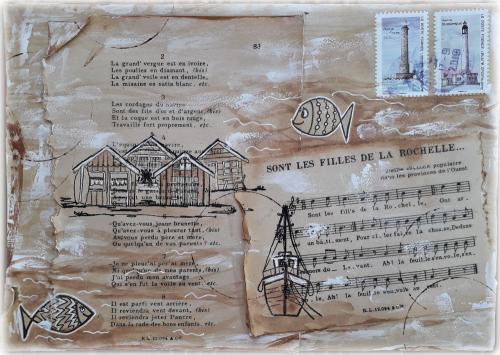 I hope this mail-art gives you inspiration to participate in our
for 3 chances to win some of these fabulous
Artistic Samper stamps !
Thank you so much for stopping by.
You may visit my folder :
I will be happy to read your comments about it !
Your comments are very much appreciated here, on my blog
Bye for now and happy creating.