Hi!
Welcome to our challenge for the month of November.
Thank you to everyone who joined in last month's challenge. Fabulous creations, as always.
This month the theme is
Mix It Up
and can be interpreted any way you like, as long as it has rubber stamps on it. To join in with this challenge (we are limiting the challenge entries to 3 per person), is simple; all we would like you to do is, make a piece of artwork, making sure that you include the theme and some rubber stamping. Pop back here to link up using the Inklinkz at the bottom of this post, so that we can see what you've made and then, leave us a comment to let us know you have joined in with the challenge.
As always, there will be candy for one randomly picked entrant - the winner will receive a stamp of their choice from The Artistic Stamper .
In addition, you can enter the same challenge on
Facebook
! There is no prize on there, it's just for fun!
To join us on just go to our new
Facebook group
, and send us a request to join..
And don't forget....if you use
The Artistic Stamper stamp
s on your entry, you will entered into the draw, twice!
TITBELSOEUR
The background of my art journal page was made with a butterfly monoprinted leftover.
I have mixed up
acrylic paint, ink, gesso and watercolour
paper and masking tape
black and white pens, and other colours as well
not less than 8 different Artistic Stamper stamps from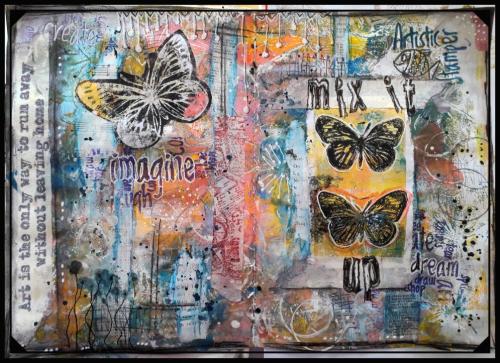 You may visit my folder :
Titbelsoeur stamps @ the Artistic Stamper
I will be happy to read your comments about it !
Bye for now and happy creating.
Titbelsoeur
my blog
my pinterest
my facebook page
Jennie
This is my 11th postcard of the year, in my postcard challenge, and this time in the theme of mixing it up , I layered on loads of
PaperArtsy Fresco paints,
using a brayer. There are at least 9 colours! I then added a
Lesley Ivy stencil
with 2 more colours. I love
Tim Holtz's Paper Dolls
, especially the dancer... Add some of his
wings
, and she is learning to Fly......
We hope that you will join in this month's challenge, and also join us on
Facebook
too.
We look forward to seeing your creations. Don't forget to add a comment when you have posted your entry.
Happy Creating
Jennie x