This is time to make our Christmas cards. There are many beautiful stamps in our

Christmas cards folder here

. For the occasion, I have made square cards.
They are super-easy to make so you can make a bunch of them in one go, and still have some variation in them.
I have first divided a A4 watercolour sheet by 12 squares and stamped a Season's greetings from
Mini Christmas 1
or
Christmas Greetings # 1 A5
with black ink on each of them :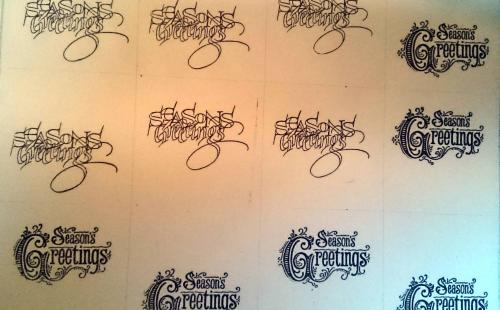 Once dried, I have stamped Happy new year! from
Christmas Greetings # 2 A5
with water-based ink such as Distress everywhere on the page with various colours from blue to red :
Added a snowflake from
Modern Christmas # 1 A5
on each, then cut out the squares and inked the edges, glue each one on to their card, et voilà !
I hope these cards give you inspiration to participate in our
for 3 chances to win some of these fabulous
Artistic Samper stamps !
Thank you so much for stopping by.
You may visit my folder :
I will be happy to read your comments about it !
Your comments are very much appreciated here, on my blog
Bye for now and happy creating.