Hi there,
this is the last bunch of greeting cards I have to show you, with a more blurry background, these I like the most !
To make these, I have first put Distress ink pads on to a plastic sheet and sprayed with water, then put the drawing paper here and there. And stamped
Holly Background stamps
and things from my stash like fish punnet, bottle caps... while it is still wet.
Then, while the paper dries, I stamped some holly branchs
from the
Christmas Reindeer plate
on another paper with Archival ink and cut them out.
And finally I cut the background in 8 pieces, stamped the sentiment with Archival ink and stuck them to the support with double-sided tape, then the branch.
And here they are !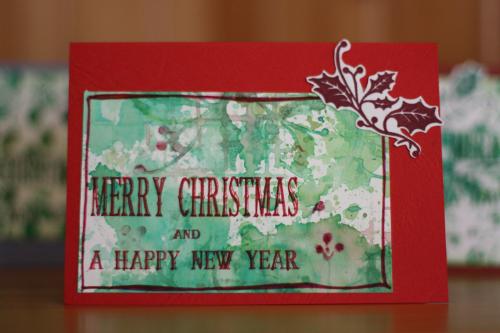 Do not forget to participe in our
to win some fabulous Artistic Stamper stamps !